45ft Elite Houseboat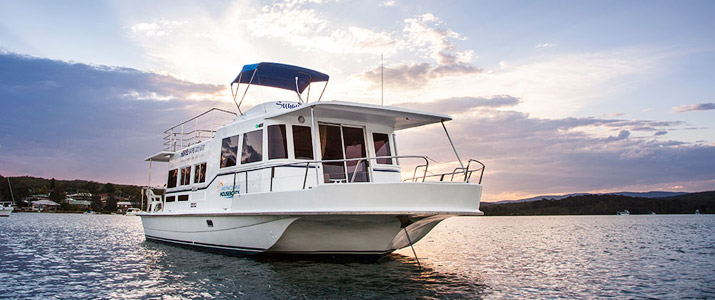 Enjoy Lake Macquarie in style aboard the Elite 45
Lake Macquarie is Australia's largest coastal saltwater lake and all it has to offer - plenty of activities, beautiful scenery and relaxing surrounds.
Priced from $1300 for 2 nights with fuel an additional $30* per engine running hour.
* Subject to change
Houseboat Inventory
Kitchen
wine glasses
large drinking glasses
small drinking glasses
dinner plates
side plates
bowls
coffee/tea cups
cutlery (knife, fork, dessert spoon, tea spoon)
cutlery and crockery x 10
2 mixing bowls
1 serving tray
2 salad bowls
1 water jug
1 large tea tray
1 kettle
1 tea pot
1 cutting board
2 lighters
1 scissors
1 torch
1 ash tray
Utensils
1 large knife - sharp
1 small knife - sharp
2 potato peelers
2 tin openers
2 bottle openers
1 large tongs
1 small tongs
1 grater
1 masher
1 egg whisk
1 large spoon
1 roasting fork
1 soup ladle
egg rings
egg cups
1 strainer
1 ice tray
1 egg flip
Bedroom
Bedding is included in the price. The bedding configuration on the 45ft houseboat is 4 x double beds and 2 x single beds.
You will need to bring your own towels.
Pots & Pans
1 frying pan
1 boiler
1 baking tray
3 Saucepans
Cleaning
1 broom
dust pan
1 toilet brush
1 shower mat
1 kitchen bin
1 bathroom bin (small)
1 large garbage bins
Dishwashing liquid
Dishcloths & scourers
Tea towels (2)
Misc
Toilet paper
TV/DVD
Rubbish bags
1 first aid kit
1 Radio/CD player & 1 ipod attachment
information manuals
12v power socket to charge mobile phones etc
Outside Deck 45ft
10 plastic outdoor chairs
1 outdoor table
1 boat hook
2 buckets
Houseboat Tour